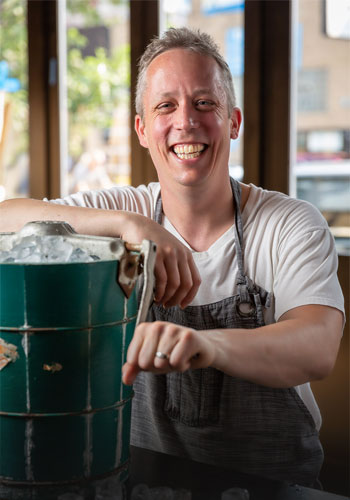 Tim Graham

After graduating with a food science degree from MU in his home town of Columbia, Missouri, Tim Graham attended the New England Culinary Institute.  Graham, presented with his first internship opportunity travelled to Chicago and spent 6 months at the fine dining restaurant, Tru.
Following school, and having cooked in numerous establishments, Tim was unable to find an experience that matched the professionalism and reputation of Tru. He then returned to Chicago and began working once more in the prestigious kitchen.
Over the next nine years, Tim climbed the ranks from Garde Manger to Executive Chef, eventually going on to re-concept and open other establishments within the LEYE family of restaurants. Graham then joined Langham hotel group, as he concepted and opened Travelle, exploring the breadth of Mediterranean cuisine.
Twain is Tim's first restaurant that he will own and operate under his own company. Partnering with his wife, Rebekah, and Branko Palikuca, they look to open a restaurant which pays homage to his upbringing in Missouri. Focusing on comfort and hospitality and turning to his extensive collection of spiral bound women's league cookbooks, Tim looks forward to joining in and adding to the Logan Square Neighborhood.