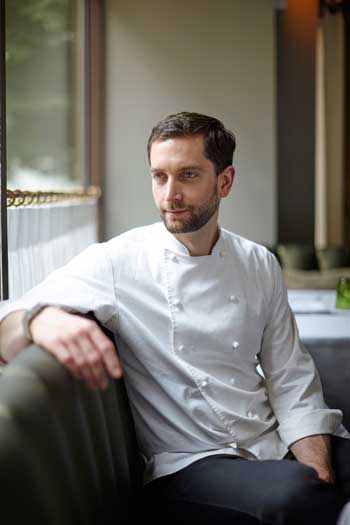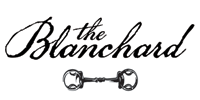 As chef de cuisine at The Blanchard in Lincoln Park, Ryan Burns enacts skills and philosophies learned throughout his career in a diverse mix of kitchens around the country. A deep appreciation for fresh produce, and the farmers responsible, guides him in the kitchen, resulting in carefully crafted French dishes. With an eye always on improvement and development, Burns matches Owner and Executive Chef Jason Paskewitz's affinity for mastering traditional cuisine and enhancing it with authentic inspirations.
Born and raised in metro Detroit, Burns first started cooking at The Rattlesnake Club, which introduced him to the intensity of the kitchen. The riverside restaurant's commitment to seasonality and locally sourced ingredients struck a chord with Burns, as did the vivacious energy the entire staff cultivated. "The chefs who worked there took their jobs very seriously," he says. "They instilled a work ethic that I still pride myself on."
Burns's next move took him all the way to Vermont, where he found himself surrounded by proud farmers growing their own produce and raising their own pigs, cows, and other livestock. Daily conversations with purveyors opened the chef's eyes to the nuance and care involved in producing ingredients. He was also amazed by what local foragers could find nearby, such as wild mushrooms, and deliver to him on the same day. The immersive experience made a resounding impact on his culinary philosophies, especially since his Detroit upbringing meant food deliveries entailed large purveyors and semi-trucks. "Since then, I've aspired to work with ingredients as fresh as possible, and of great quality," explains Burns. "It's a treat to be able to eat a tomato freshly picked that day—just wash, slice, and enjoy."
Eventually, the chef once again craved the bustle of a big city and returned to the Midwest, this time settling in Chicago to pursue an opportunity with one of Chicago's most acclaimed restaurants, Alinea. Working under Chef Grant Achatz and surrounded by accomplished chefs, Burns pushed himself to excel and strive towards an ever-rising standard, realizing the importance of leading by example.
Seeking a larger role in the kitchen, Burns connected with Jason Paskewitz during The Blanchard's construction. As the Lincoln Park restaurant approached completion, the two chefs spoke about the concept's themes and values, sparking a newfound focus in Burns and an impetus to take on the sous chef role. Not long after opening, as awards and accolades started pouring in, Burns rose up the ranks to chef de cuisine. "I couldn't be more proud of the opportunity, the outcome, and the future for us at The Blanchard," he says.
Burns lives in Chicago's Lakeview neighborhood, adjacent to Lincoln Park. In his free time, the chef enjoys the physical and mental challenges of Muay Thai boxing, a sport he has participated in since the age of 16.