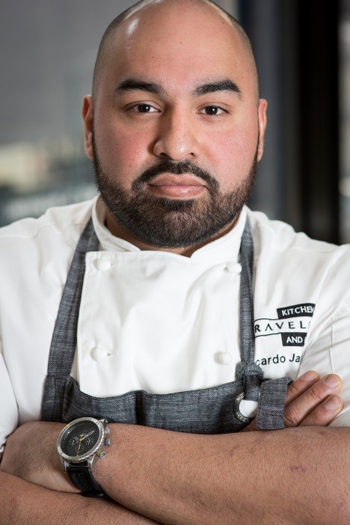 At just 30 years old, Chef de Cuisine Ricardo Jarquin of Travelle Kitchen + Bar is a young force on Chicago's culinary scene with an impressive pedigree. A native of Nicaragua, Jarquin was raised in Miami and received his bachelor in culinary arts from Johnson and Wales University in 2008.
"I'm very focused on seasonality, simplicity, and sourcing from my surroundings wherever possible," says Jarquin. "My food is also very technique-driven with flavors that are pure, clean, and natural. There's no point in working with great product if you're not able to prepare it in a way that will enhance its natural form."
Jarquin's inspiration and refinement of technique developed from the many stages he did when he moved to New York for the position of sous chef of the renowned Four Seasons Hotel. He has learned from some of the most influential chefs in the world, including Jean-Georges Vongerichten, Daniel Boulud, Alex Stupack, Mario Batali, George Mendez, and Michelle Bernstein.
Jarquin continued to hone his skills and build upon his personal style while learning from these masters of cuisine and was truly able to put his experience to work in his position as opening senior sous chef at Conrad New York and again as opening chef de cuisine at ULU Restaurant at the Four Seasons Hotel in Hawaii.
"At ULU we really embodied the farm to table philosophy with 90 percent of the proteins and produce served in the restaurant sourced from the island," Jarquin explains. "Our menu changed based on what produce was available for harvest that week. I take the same approach wherever possible in my work since then, relying on what is seasonally available to guide the menu."
Travelle Kitchen + Bar boasts the inventive American cuisine of Chef de Cuisine Jarquin, inspired by historical styles, genuine ingredients, and a background in refined, modern techniques. Prior to joining The Langham, Chicago and Travelle Kitchen + Bar, Jarquin held the role of executive sous chef at the Hilton Bayfront in San Diego. One of Jarquin's proudest recent accomplishments was winning Hilton's brand-wide "Most Beautiful Dish" competition in 2015 in which he placed in first out of five categories and was 1st runner up from two more.
In his spare time, Chef Jarquin enjoys food photography and writing his blog, On Food and Feasting, which showcases his work in the kitchen and allows him to share ideas with other chefs. Early on in his career, Jarquin worked with The Langham, Chicago's Director of Food & Beverage, Anthony Zamora, and now joining him in Chicago is their fourth time collaborating. Having a mentor has impressed upon Jarquin the importance of developing and growing talent in his kitchen, and working with his staff to grow their skills is one of his greatest passions.