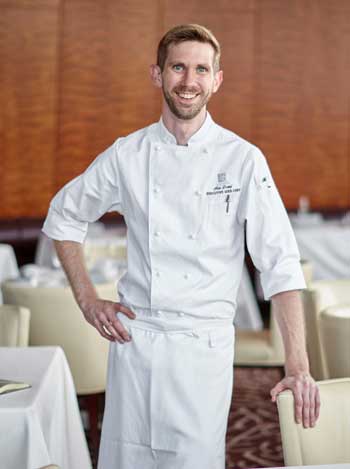 Born in Columbus, Ohio, Nick developed an appreciation for food and creativity at an early age. His family, who frequently cooked together, encouraged this growing passion. Nick officially entered the industry while in high school, accepting a job washing dishes and taking out the trash at a restaurant in his hometown. Instantly hooked and after months of dedication, Nick worked his way up to prep cook and began looking into opportunities for formal training by way of culinary schools.
After taking summer classes at Le Cordon Bleu Cooking and Hospitality Institute of Chicago, Nick attended Johnson & Wales University in Denver, Colorado. While working to complete his Associates in Culinary Arts and Bachelors' in Culinary Nutrition, Nick worked at more than seven different restaurants in the Denver area and traveled to France to learn classic techniques, resulting in an invaluable experience. Upon graduation, Nick moved to Vail, Colorado, to work at Larkspur Restaurant before moving to San Francisco to take part in the booming culinary scene. San Francisco was a pivotal experience for Nick, opening his mind to the expanse of amazing product available and the importance of finding the best ingredients.
Nick took a job at the Michelin-rated Quince, where he first met Sixteen's Executive Chef Thomas Lents who was working as the restaurant's Chef de Cuisine. Eventually Nick moved back to Chicago, where he worked at famed dining institutions such as Ria and Grace restaurant. Upon learning that former mentor Chef Lents was looking for a Chef de Cuisine at the two Michelin-starred Sixteen restaurant in May of 2015, he eagerly accepted the opportunity to work and learn from him again.
Outside of the kitchen, Nick enjoys traveling and bonsai – drawn to the calm, delicate and patient demeanor required.