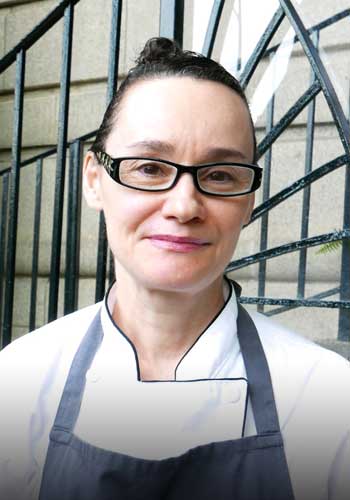 Executive Chef Nelli Maltezos brings over 25 years of experience to the team at Mon Ami Gabi. Raised in Chicago, she graduated from Loyola University in 1991 and went on to study classic French culinary technique, menu design and recipe development at the Cooking & Hospitality Institute of Chicago.
Chef Maltezos began her career at Charlie Trotter's in the early 90s before moving to Santa Fe in 1999 to open a French bistro, Rociada, where she served as both Managing Partner and Executive Chef. While there, she orchestrated the reconceptualization of the restaurant into a northern Italian trattoria in 2004 followed by a contemporary French concept in 2013. Upon moving back to Chicago, Chef Maltezos became an adjunct professor at Le Cordon Bleu and the Executive Chef at Café 300 downtown. In the fall of 2014, she accepted a position at Brendan Sodikoff's Bavette's Bar & Boeuf – ultimately becoming the AM Supervisor & Butcher – before joining the Lettuce Entertain You family in 2016.
Inspired by Julia Child, Chef Maltezos excels in executing French fare using a seasonal approach with local organic ingredients. She enjoys cooking with mustard, crème fraîche, anchovies, lemon juice, roasted plum tomatoes and leeks, and trying unique, unexpected dishes including squab. On her days off, you can find Chef Maltezos hanging out with family, reading and drinking wine.