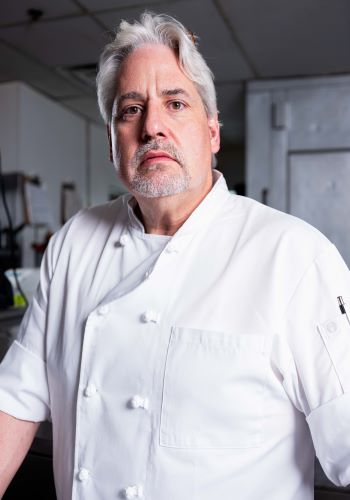 Michael Lachowicz
Chef Michael Lachowicz went from helping in his family's Chicago restaurant to cooking in kitchens spanning from New York to France. With many successful restaurants under his toque, he embodies classic French cuisine and has created a culinary destination in the North suburbs of Chicago.
From the age of three, Chef Michael Lachowicz was enthralled with the kitchen as he found himself peeling potatoes in his grandfather's small family restaurant. By age thirteen he was working full-time at a hotel, and four years later he was off to New York to attend the prestigious Culinary Institute of America. It was while attending the CIA that Michael was introduced to the kitchen of Maxime Ribera, a member of the Maitre Cusinier de France. Michael studied under Chef Ribera for two years before returning to Chicago for a three-year stint at Le Francais in Wheeling. It was there that Michael discovered his passion and honed his skills with sauce work - first under the careful direction of the famed Jean Banchet and later with Roland Liccioni.
Michael next took on the position of Sous Chef for Café La Cave in Des Plaines. Shortly thereafter he ventured to France for a stage at the renowned restaurant Pierre Orsi in Lyon. During his time abroad Michael traveled to each region of France seeking to dine in as many highly rated restaurants as he could afford. Michael returned to the states after six months and took the position as Chef de Cuisine at the Highwood restaurant Allouette.
In 1999 his brother and he decided to take a leap of faith together and opened the highly regarded Les Deux Gros, in Glen Ellyn, IL. Les Deux Gros received countless awards and accolades including four stars and "Restaurant of the Year" in 2002 from the Chicago Sun-Times. They received three and a half stars and a "Chef to Watch" designation from the Chicago Tribune, plus three stars and acclaim as one of the Best New Restaurants in Chicago Magazine. Additionally, the restaurant was recognized by national food publications including Bon Appetit, Gourmet, and Food & Wine.
In 2005 he opened Restaurant Michael, earning additional praise in receiving three stars from Chicago Tribune, Chicago Sun-Times, and Chicago Magazine. Known for his classic yet modern French menu, Michael has become a mainstay on Chicago's North Shore and a notable destination for delectable French cuisine.
In his 10th year Michael launched the new George Trois experience within his eponymous restaurant. Named in honor of his grandfather and uncle, George Trois is a 14-seat dining room offering multi-course degustation menus and a true tasting experience of modern French cuisine. Both the Chicago Tribune and Chicago Magazine awarded George Trois four stars, heralding that Michael set a new standard for French cuisine.
In 2019 George Trois became the first suburban restaurant to be named Restaurant of the Year by the Jean Banchet Awards. Just months later, Michael closed Restaurant Michael after a 14 year run in order to renovate and create two new restaurants. In May 2019 Michael opened Aboyer and Silencieux alongside George Trois, creating three distinct restaurant experiences at one address.