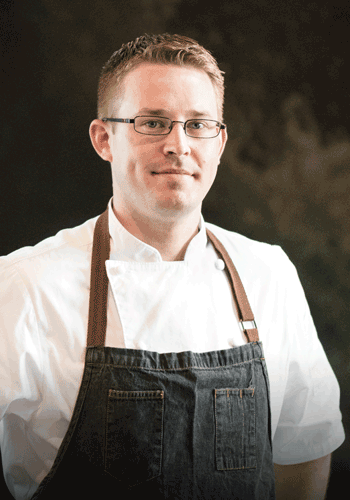 Executive Chef Matt Jergens brings six years of hotel experience to The Gwen, a Luxury Collection Hotel. Chef Jergens was born in Iowa and moved to just outside of Boston at a young age. Raised in an Italian household, cooking has always been a part of Chef Jergens' life. While growing up in both Iowa and Boston, Chef Jergens experienced two drastically different food cultures. He was gifted his first charcoal grill when he was just 11 years old, started bussing tables at age 17 and eventually landed in the kitchen after working front of house at Raso's Grille and Pizzeria. Upon his graduation from Cambridge Culinary Arts School in 2011, he landed his first full-time cook position at The Liberty hotel, where he was given five promotions in five years and worked his way up to Executive Sous Chef. Now residing in the Windy City, Chef Jergens exercises his culinary prowess as Executive Chef at The Gwen.
Chef Jergens revamps The Gwen's food and beverage program with a modern takes on classic dishes such as the Grilled Skirt Steak with green beans, fried green plantains, chimichurri, lime crème fraiche; and the Pan Roasted Salmon with roasted mushrooms, snow peas, bok choy, warm miso vinaigrette. Additionally, Chef Jergens introduces the first weekend brunch menu at The Gwen. Menu highlights include Smoked Salmon Toast, Mascarpone Pancakes, and the Fried Chicken and Egg Sandwich.
"Our food and beverage brings a current feel to an area that has some older classic restaurants," says Chef Jergens. "We want to make the best tasting food and drinks we can and showcase them in a way that coincides with the newest trends and techniques." Chef Jergens believes that The Gwen's food and drink should match the property's River North surroundings: modern, yet classic, fun and lively.