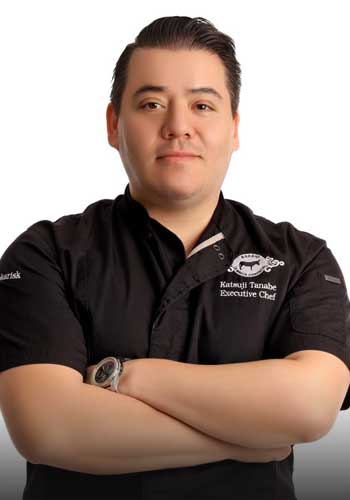 Katsuji Tanabe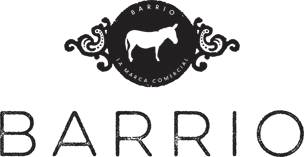 Fresh from filming Bravo television's hit competition series, "Top Chef," Chef Katsuji Tanabe joins DineAmic Group as the Executive Chef of Barrio.
In the beginning, there were tacos. More specifically, very delicious Suadero tacos with pickled red onions and habanero sauce wrapped inside a tortilla made from scratch by Chef Katsuji Tanabe at the Taste of Los Angeles last year. It was here where DineAmic Group partners Lucas Stoioff and David Rekhson met Tanabe and immediately connected with his infectious personality, ambitious attitude, and his simple, yet flavorful tacos.
Son of a Japanese father and Mexican mother, Tanabe was born and raised in Mexico City, where he spent his formative years training alongside private chefs in the homes of the city's elite; picking up recipes and techniques while sparking a lifelong passion for Mexican cooking along the way.
In 1999, Tanabe chose to move to America where he chased his passion for cooking. Arriving in California, he embarked on his culinary journey, learning the ins and outs of the industry working in various kitchens while studying at Le Cordon Bleu. Upon graduation, he was eager to expand his knowledge about his Japanese culture and moved to Hiroshima where he apprenticed for local chefs, learning precision, discipline, and organization. After extensive research, Tanabe returned to Los Angeles where he worked in the city's most acclaimed kitchens, including the four-star Bastide Restaurant as well as Beverly Hills' Mastro's Steakhouse.
Looking for a challenge and utilizing the skills he acquired along the way, Tanabe made the transition from Chef, to Business Owner/Chef. He developed an innovative approach to traditional Mexican cuisine with his Mexikosher taqueria concept - a kosher taqueria based in Beverly Hills that uniquely blends two very different techniques. Since opening in 2010, Mexikosher has been celebrated as some of the best Mexican food in the city and in 2016, Tanabe expanded his brand to Manhattan's Upper West Side, and is already planning to open more locations in the near future.
Living his American dream, while growing his business, Tanabe was asked to be a contestant on Top Chef, where he was recognized for his enthusiastic and competitive attitude - an obvious choice for the series and consistently a fan favorite. In the last four years, he has competed on "Top Chef Boston," "Top Chef Mexico," and most recently "Top Chef Charleston." Tanabe also had a winning appearance on the Food Network's "Chopped."
It was Tanabe's passion for food, determination to succeed, and unique background that made him stand out during the search for Barrio's Executive Chef. His original take on Mexican fare combined with his appreciation of Japanese-infused flavors proved him to be an undeniable choice for the new restaurant. Tanabe works closely with the two partners and created a menu that includes playful twists on classic Mexican street food as well as American gastropub dishes with a Latin spin.