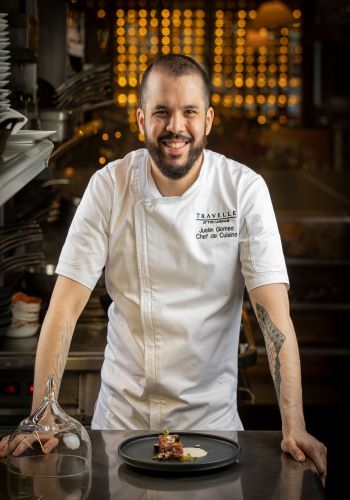 Justin Gomes

Justin, a Trinidad native, brings a wealth of knowledge and experience to the culinary team and looks forward to fostering an environment of curiosity, and more importantly, community in the kitchen.
Travelle at The Langham, Chicago is a seasonal American restaurant and Justin believes in a philosophy of honoring all ingredients he uses in the kitchen while presenting them in an elegant, fun and approachable way. He aims to create a menu that not only triggers a sense of nostalgia in our guests but is also reflective of his team. He plans to do so by using flavors and concepts familiar to our guests and our team in new and unique ways that are both interactive and surprising.
"I believe that the most important component in any operation is building an inclusive environment with a culture committed to learning and growth," says Justin. "I hope that the calm, positive atmosphere I aim to create in the kitchen will spread throughout the team and in turn, through the guest experience."
Justin has strong roots in Chicago and his previous roles include Chef de Cuisine at Venteux Chicago, Chef de Cuisine at Londonhouse, Sous Chef at Virgin Hotel, Kitchen Manager at Alinea and Sous Chef at The Pump Room. Justin attended the Le Cordon Bleu Chicago where he earned an A.S Degree in Culinary Arts. He is also an avid fan of Soccer supporting Manchester United from a young age.