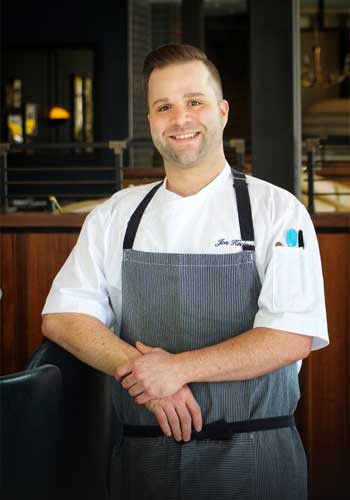 Jon Keeley

Chef Jon Keeley is poised to bring the Gold Coast what it deserves: a place to call home. He thrives in an environment that pushes his culinary creativity, but at the foundation of his cooking philosophy is a desire to understand the needs and wants of his patrons. That's a skill he developed while executive chef at Lincoln Park's Gemini. And it's one he will continue to follow in his new position as executive chef at Walton Street Kitchen + Bar, the third restaurant from Ballyhoo Hospitality.
Keeley's passion for food started at a young age when he would stand on a stool watching his grandmother make meatballs and help stir the sauce. Working in a restaurant during high school convinced the Boston native that a career as a chef was his calling and he promptly attended Le Cordon Bleu in New Hampshire where he earned a culinary degree.
After graduating, Keeley started honing his skills at James Beard award-winning restaurant Toro in the south End neighborhood of Boston. After moving to Chicago, Keeley joined chef Shin Thompson as chef de cuisine of Bon Soirée where he helped earn the restaurant a Michelin star for two consecutive years. Keeley then became executive chef of what was then Gemini Bistro, now Gemini.
Keeley will continue his guest-focused culinary style providing a thoughtfully executed approach to the neighborhood restaurant and bar concept with refined yet unpretentious nostalgic fare. "Cook like you're cooking for your mother on her birthday," says Keeley of his cooking mantra, "and everything will be okay." Keeley is an asset with his quick adaptability and extensive knowledge of the industry, who strives to preserve the spirit of Ballyhoo Hospitality.
When he is not in the kitchen, you can find him enjoying a fine cup of coffee on a tree-lined patio, dodging traffic on his bike throughout the city, or relaxing at a live music show.