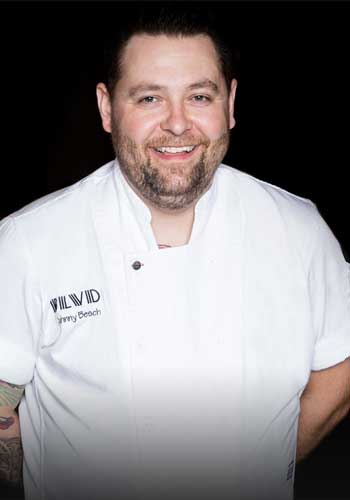 Johnny Besch

Johnny Besch possessed the makings of a chef—unparalleled discipline, an immense appreciation for ingredients, and an unending curiosity for the "why" behind a dish—before he decided to make cooking a career. By the age of ten, Johnny had already spent countless hours cooking with his grandmother and mother as well as in numerous Chicagoland restaurants being "babysat" by prep cooks who ultimately taught him how to peel carrots and potatoes. At fifteen, Johnny became fascinated with the old world art of a delicatessen, handling the deli mise en place and charcuterie production at Mike's Meat Market.
In 2000, Johnny officially made the commitment to the hospitality industry and enrolled at the Western Culinary Institute in Portland, Oregon. During his nine years in the Pacific Northwest, he was sous chef at the fine dining restaurant, Epicure, and then chef de partie at The Heathman Restaurant & Bar for James Beard award winning and Knight/Master, chef Philippe Boulot. A six month break from The Heathman sent Johnny backpacking through Nicaragua, Costa Rica, and Panama where he learned to work with Latin American ingredients and new cooking techniques.
Johnny then went on to assume the role of chef de partie at the critically acclaimed restaurant L2O in Chicago under celebrity chef, Laurent Gras, where he assisted the team in earning three stars from the Michelin Guide. Continuing his pursuit to learn and grow, Johnny accepted the opening sous chef position at Mix on The Beach, Alain Ducasse's restaurant at the W Retreat & Spa in Vieques, Puerto Rico. Carrying with him Ducasse's philosophy of 60% ingredients, 40% technique —simplicity with extraordinary results, Johnny returned to his native home town of Chicago and took on the executive chef role at Bistro Bordeaux on the North Shore, working closely with Bordeaux native and celebrated restaurateur and maître d', Pascal Berthoumieux.
After two years in Chicago, Johnny felt the urge to head back west where he could work directly with fresh, coastal ingredients. Here, he managed PickledFish at the 80-room Adrift Hotel & Spa in Long Beach, Washington. Another big move cross-country landed Johnny on Cape Cod as the executive chef and culinary director of Tap CityGrille and Beech Tree Cantina. On the Cape, Johnny ran a team of 50 and instilled in them the same sense of discipline, attention to detail, and respect for ingredients that he learned from some the best chefs in the business.
Now, back home to plant his roots and officially hang his hat, Johnny has joined Sancerre Hospitality to open BLVD — a modern American restaurant in the West Loop neighborhood that draws inspiration from Hollywood's Sunset Blvd circa 1950. Here, Johnny offers a globally inspired menu of shareable plates highlighting classic dishes and familiar flavors reimagined and served in thoughtful new ways. While always pushing the boundaries with composition and technique, Johnny places the utmost importance on consistency, as well as sourcing wholesome and authentic ingredients—working to bridge the gap between simple, pure cooking and playful, thought-provoking craftsmanship.
When Johnny isn't in the kitchen, you can find him working on his vintage motorcycle, running with his two dogs on the beach, and trying new restaurants around the city with his wife.