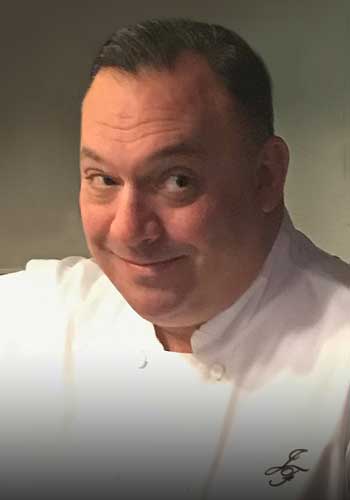 Chef Joe Farina, Victory Restaurant Group's Culinary Director and Partner, is Chicago's preeminent practitioner of classic Chicago-style Italian cuisine. A native of one of the area's suburban enclaves for second-generation Italians (Melrose Park), Joe has been at the center of Chicago's culinary stage since he came onto the scene in 1996. In 2016, Chef Farina joined forces with his childhood friend Anthony Gambino, a 30-year restaurant industry veteran, to open a series of full-service restaurants under the banner of Victory Restaurant Group. The Group's early ventures include Victory Tap Chicago (1416 South Michigan Avenue), an Italian Steakhouse and Tavern serving Chicago-Italian classics, and Victory Meat & Seafood (116 North York Street, Elmhurst), a neighborhood steak and seafood restaurant serving a selection of prime meats and exceptionally fresh seafood.
Chef Farina is well known for delighting diners with his finely tuned versions of the classics that brought notoriety to Chicago's Italian neighborhood restaurants. Utilizing the finest and freshest ingredients, Farina honors the Italian tradition of keeping it simple and letting the flavors shine through. Chef Farina's inspiration stems largely from Southern Italy – his signature dishes include his legendary "Mama's Meatballs", a variety of "Parmesan" dishes, and classic brick chicken. In fact, Chef's Mama's Meatballs are so legendary; they are now available in the meat department in the area's finest grocers.
Farina has honed his craft at some of Chicago's most iconic restaurants, and is a mainstay and culinary personality on Chicago's television and radio networks, as well as the area's most prestigious "foodie" events, including Chicago Gourmet, Taste of Travel and The Grand Chef's Experience.
Follow Chef Joe on Instagram: @chef_farina