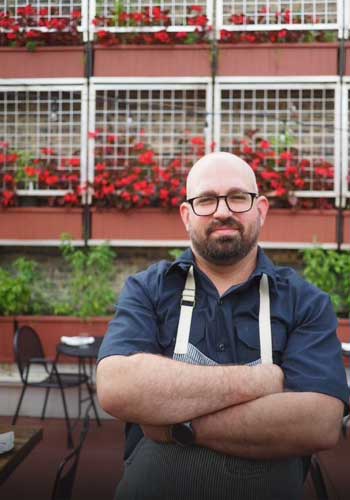 Jesse Badger
Jesse Badger has more than two decades of experience in every facet of the restaurant industry, including management positions in both the kitchen and dining room, as well as experience as a wholesale distributor. He is also a Certified Coffee Steward through Counter Culture Coffee's national training program and a Certified Sommelier from the Court of Master Sommeliers.
Raised on a subsistence farm in rural southern Indiana, Jesse's cuisine has always been grounded in small-scale agriculture. He believes that farm-to-table cuisine must be a collaboration between chef and farmer that puts product availability at the center of the process. To that end, Jesse's menus make extensive use of seasonal ingredients, whole animal and whole plant cookery, and natural preservation methods for surplus ingredients.
Jesse began his restaurant work as a young teenager bussing tables and cooking in a small cafe in his hometown of Corydon, IN. He moved to Louisville, KY for college where he worked throughout the city, including at the popular local restaurant, Ramsi's Cafe on the World, where he met his wife, Kelsey.
In 2011, Jesse returned to Corydon, IN, as the executive chef of the now shuttered cafe, The Green Door. This was a formative time for Jesse's culinary style, during which he was again able to work with the farmers and local products that he had grown up with.
In 2012, Jesse moved to Chicago in order to work with and learn from some of the city's most esteemed chefs. His first position in Chicago was as a sous chef for Stephanie Izard, best known as the first female chef to win Bravo's Top Chef. Jesse helped to open Chef Izard's second restaurant, Little Goat Diner. He went on to work throughout the city at places such as the Michelin-starred restaurant Dusek's, Found Kitchen, and Ombra.
Following these experiences, Jesse again returned to an executive chef role in 2015 at Chicago's The Spoke & Bird, a neighborhood café serving breakfast and lunch. Jesse's extensive experience with and dedication to local and sustainable sourcing earned the café features in The Midwestern Diner and Good Food on Every Table. Later that same year Jesse and the owners opened a bakery, The Spoke & Bird Bakehouse.
Jesse left The Spoke & Bird in 2017 in order to return to a restaurant with a dinner program. Until coming to West Town Bakery and Homestead on the Roof, he worked as Chef de Cuisine at the five-time Michelin Bib Gourmand recipient, Untitled Supper Club.