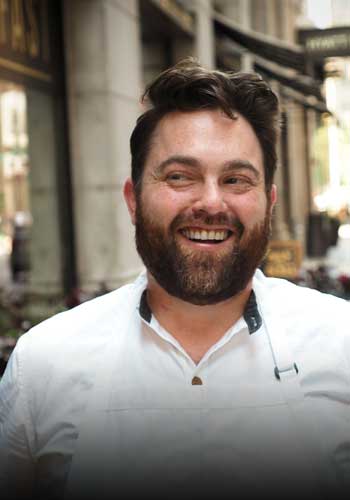 Jeremy Leven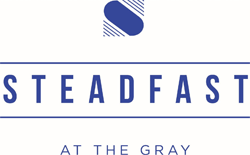 Jeremy Leven is the new executive chef at Steadfast. Jeremy's new fall menu focuses on classic and elegant American fare and gastronomy that conveys a sense of time and place. He will strive for cuisine at Steadfast that will be as timeless as the buildings that surround him. A commitment to craft, ingredient, and technique will be the driving force behind Steadfast's fall menus.
In the summer of 2019, Jeremy met The Fifty/50 Restaurant owners Scott Weiner and Greg Mohr along with Steadfast executive pastry chef/partner Chris Teixeira through a mutual friend. Jeremy accepted the position of executive chef at Steadfast.
Jeremy Leven's earliest food memories revolve around community and the way food brings people together. Jeremy spent his earliest years living back and forth between Santiago Chile, where his mother's family lived, and San Francisco where his father took his first job as a professor of anatomy.
Eventually his family moved to Chicago where he found a more permanent home. He remembers the outdoor gatherings of 'asados' a communal type of cookout where extended friends, family, and neighbors would all contribute food for the gatherings from their respective Latin American homelands. It is no surprise, that after a short stint as a lawyer's assistant, Jeremy quickly ditched his law school career path for culinary school.
While attending the Illinois Institute of Art's culinary program, Jeremy was heavily influenced by one chef/instructor in particular: Geoff Felsenthal. Chef Felsenthal was Charlie Trotter's chef de cuisine for many years, and was the first person who really pushed standards and dedication to the craft of cooking upon Jeremy.
While in culinary school, Jeremy had short stints at various restaurants in Chicago including Lula Cafe, Takashi, and Bin 36, but never truly found his fit. In 2010 Jeremy founded Tuesday Night Dinner, an underground dining community that was committed to hosting pop up events in fearlessly creative ways. Tuesday Night Dinner teamed up for events with everyone from Dark Matter Coffee, to Bang Bang Pie & Biscuits, The Fly Honeys, and dozens of gallery and monthly TND dinner events.
Jeremy was recognized as one of Chicago's "culinary game-changers" by Zagat Chicago, and inducted into their 2014 "30 Under 30" class.
The same year, Jeremy was approached by Gaslight Coffee Roasters to take over the food program at their cafe and reinvent the coffee shop experience. Jeremy commited himself to distilling "coffee shop cuisine" to its essence – high-quality seasonal ingredients on tartines and classic French egg preparations like soft scarmbles and French omelettes. Jeremy's menu at Gaslight Coffee was recognized by local food media like the Eater and Zagat.
After a while of cooking under coffee shop constraints, Jeremy felt it was time to grow into something different. After serving a perfect French omelette to Scott Worsham, the co-owner of mfk restaurant, he was so impressed he offered Jeremy a job on the spot. It was after a few months of chatting that Jeremy and Worsham decided to work together.
Worsham convinced Jeremy that even though the position of head chef was not available at mfk at that time, that if Jeremy came on the team, he would surly rise quickly. A year later, Jeremy took over as executive chef at mfk. His Basque-inspired menu of mostly seafood and seasonal vegetables gained mfk. a Bib Gourmand from the Michelin guide in 2016 and 2017.
After spending several years developing his craft with the Worshams' at mfk, Jeremy was presented with the opportunity of a lifetime: a chance to work with his greatest gastronomic influence, Chef René Redzepi at the world-renowned Noma in their brand new "Noma 2.0" facility in the outskirts of Copenhagen.
While this was a difficult decision for Jeremy, he felt ultimately that he would never be presented with this opportunity again in his life. Jeremy spent 15 weeks in Copenhagen training under the brigade of Chefs considered to be the top in the world. Jeremy participated in the entirety of the Vegetable Kingdom season, where he did everything from foraging and working on Noma's private experimental farms, to working with chef David Zilbur in the fermentation lab, to the service kitchen, where he would assist in running the nasturtium tart station with the chef de parties.
Noma was a transformative experience for Jeremy, working at the highest level, surrounded by the best in the world, seeing first hand the dedication it takes to perform at that level. It is something that will be with him forever. In 2019 Noma was the highest new induction on the San Pelligrino's World's 50 Best Restaurants entering at #2 for their first year at the new Noma facility.
After his return to Chicago, Jeremy founded another pop-up series with Chef Diana Davila of Mi Tocaya called Chingona – a pop up series dedicated to showcasing the up and coming food talents within the city of Chicago. He believes in giving back to his peers and the next generation, in order to help contribute to a vibrant food community in Chicago.