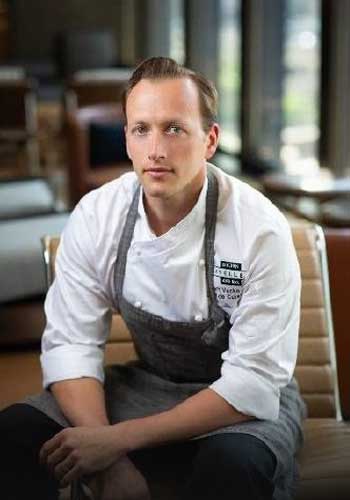 Jeffrey Vucko

As Chef de Cuisine at Travelle at The Langham, Chef Jeffrey Vucko oversees all culinary operations within the second floor River North restaurant.
Vucko, a former insurance broker, is a lifelong advocate of perseverance and following your gut. While attending University of Illinois, Champaign-Urbana, he continued to chase a lingering desire for the hospitality industry by working his way up to bartender and then Assistant Manager in a network of campus bars, Cochrane Enterprises. While at Cochrane, he helped to maintain 20+ properties while managing a 15-person staff.
The real hustle began after Vucko left his career in the insurance industry in 2011 and started working towards a degree in Culinary Arts at Le Cordon Bleu College of Culinary Arts in Chicago. While obtaining his degree, Vucko expanded his skill set through work at Children's Memorial Hospital overseeing catering events and assisting the Executive Chef for the hospital cafeteria's daily, seasonal menus, as well as Fulton's on the River, where he worked as an Active Station Chef.
Upon graduating from Le Cordon Bleu, Vucko was determined to hit the ground running. He started as a line cook at theWit Hotel's Cibo Matto under Chef Ken Carter, then moved on to The Pump Room in the former Public Hotel. Here, he met sous chef Jason Hedin, who pushed Vucko to learn all stations on the line and guided him to new opportunities in the kitchen. A few years later, on a lead from Hedin, Vucko had the opportunity to join the opening team of The Langham, Chicago in June 2013.
"I challenged myself – taking in everything I could from the chefs, managers, and cooks through the beginning stages," says Vucko. "I started to climb the ladder and learned that perseverance is the greatest virtue. I plan on continuing to climb the ladder of the Chicago food scene alongside the Travelle team."
Growing up, Vucko said he learned most of what he knew about cooking from his mother, grandmother, and on trips with his Boy Scouts troop. Some of his fondest food memories include his mom's chocolate chip cookies, his grandma's donuts and monkey bread, and the smell of cooking over an open fire on troop camping trips. This close-to-home upbringing in cooking inspires Vucko still today.
"The farm-to-table and local ideology has always been in my head," Vucko explains. "Getting to know our local farmers changes my philosophy and inspires our team. When you read about great chefs today, they all have close farmer friend or large gardens in their restaurants. That's the progressive lifestyle I want for my restaurant and my food."
Inspired by this local philosophy, Vucko also wants to be able to surprise the guests, especially if they think they already know how something will taste. From unique flavor combinations to mixed dish textures and unusual uses of heat in a dish, he always wants a dish to capture and wow guests with simple and flawless service and great taste.
Vucko lives in the Ukrainian Village neighborhood of Chicago with his wife, Erika, and their daughter, Genevieve. In his spare time, he enjoys staying active with golf, basketball, and traveling, spending time with his family, and, of course, indulging in the illustrious Chicago food scene.