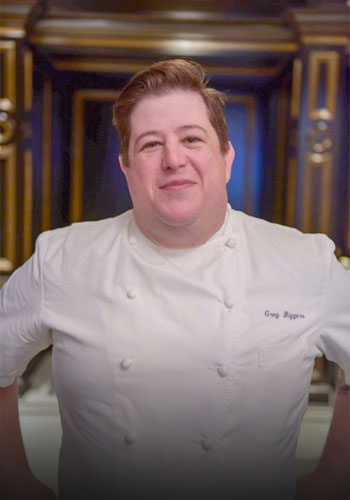 Greg Biggers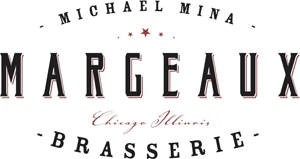 As the Executive Chef of Chicago's Margeaux Brasserieand Petit Margeaux, Greg Biggers leads the the two French restaurants from the Michelin Star and James Beard award-winning Chef Michael Mina. ​Biggers'​ impressive culinary track record in a variety of high profile dining establishments across the country combined with his innovative techniques give guests a unique and memorable dining experience the Waldorf Astoria.
A southerner at heart, Biggers hails from Alabama, where he grew up watching his mother prepare ​Chicken and Dumplins'​,a Saturday favorite. While attending school at Johnson & Wales University in Charleston, South Carolina, he worked atBlossom Café as a Pastry Cook, learning the art of baked breads and pastries. Later, he became the Private Dining Chef and then Sous Chef at McCrady's, an inventive, farm-driven Charleston mainstay.
Biggers' philosophy is built on the relationships he shares with fellow culinary artisans and as a result, he has spent nearly two decades working alongside an impressive portfolio of chef talents in some of the most acclaimed kitchens in the world.His early career successes led him to Chicago's 4-star restaurant, TRU, where he he held the role of Chef de Partieunder James Beard award-winning Chef Rick Tramonto. His next venture led him to Philadelphia to work as the Executive Sous Chef at Morimoto under Iron Chef Masaharu Morimoto. There, he developed his craftsmanship with pristine and exotic seafood, as well as managing a prominent, high-exposure kitchen in the heart of a busy urban locale.
Rejoining Chef Tramonto in Chicago, Chef Biggers became Executive Chef of his two new restaurant concepts, Tramonto's Steak & Seafood and RT Lounge, lending his creativity and employing his strong management background as he oversaw the development and operation of both 3-star restaurant endeavors. Biggers went on to join Levy Restaurants' Fulton's on the River and was responsible for the high volume operation, leading a team in successfully upholding the standards of both high-quality cuisine and impeccable service at this modern seafood and steak house.
Prior to joining the Waldorf Astoria Chicago in late 2018, Biggers worked as the Executive Chef of SofitelChicago Magnificent Mile where he oversaw all aspects of the hotel's dining operations, including its restaurants, Café des Architectes and Le Bar. In 2014, Chef Biggers launched Chestnut Provisions; an artisanally-driven kitchen-to-table concept within the hotel which featured an assortment of cave-aged cheeses, charcuterie, jams and preserves. In addition to maintaining operations at Sofitel, Biggers launched Fort Louise, a cozy, neighborhood side-project in Nashville, Tennessee in 2017, while remaining based in Chicago.
As a leader in his field, Biggers has been granted numerous specialized food program certifications,allowing him to make a variety of cave aged cheeses, cured meats and salumis, house made vinegars,fermented mustards and canned jams and pickles. His launch of Chestnut Provisions within the SofitelChicago was the first and only ​cheese-making certification given to a restaurant in the state of Illinois.He's also a top trainer for HACCP approved food programs and has worked to certify some of the best chefs and restaurants in Chicago, including Stephanie Izard's​ Duck Duck Goat​, Paul Kahan's ​PublicanQuality Bread, BOKA, North Pond​ and more. In 2o15, Biggers' talents were recognized by StarChefs.com when he was awarded the Rising Star Award.
Margeaux Brasserie
11 E Walton St, Chicago, IL 60611