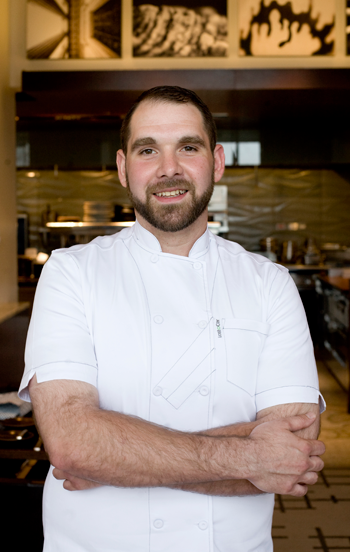 CHICAGO (June 2016) – Park Hyatt Chicago is pleased to announce Edward (Ed) Sura has joined the award-winning culinary team at NoMI Kitchen as Executive Chef.. Sura, 31, has established himself at a young age as a prominent rising star chef within Chicago, and will be an invaluable addition to theNoMI Kitchen culinary team.
Chef Sura developed his appetite for cooking while growing up on a farm in,Michigan. This sparked a deep appreciation of approachable, rustic dishes full of fresh, local ingredients. Enrolling in the Great Lakes Culinary Institute transformed this passion into a lifelong career journey.
After working in Traverse City, Michigan under Executive Chef Ted Cizma, Sura made the move to the Windy City. Once in Chicago, Chef Sura built an impressive resume including some of Chicago's most preeminent restaurants such as Michelin-starred Graham Elliot and his most recent venture at the acclaimed Perennial Virant. His natural talent and technical expertise is nationally recognized. In 2016, Sura was named a Semifinalist for the 2016 James Beard Foundation's Rising Chef Award.
Chef Sura will bring NoMI Kitchen back to its roots by continuing to maintain his passion and commitment to the quality, service and culinary vision he is known for, as well as incorporating his love for creating modern interpretations of classic dishes infused with rich flavors. Inspired by the seasons, he will continue to cultivate and strengthen his partnerships with the best products from farmers, cheese makers, ranchers, bakers and artisans from the surrounding region.
Despite his talent and accolades, coming to NoMI Kitchen has been a surreal experience for Sura.
"I am excited to join a rich history of chefs here that I have looked up to over the years," he remarks. "I staged at NoMI over eight years ago, so to be back in this kitchen as Executive Chef, well, it's quite an honor."
Chef Sura will officially start on June 27, 2016.
NoMI Kitchen is open for breakfast, lunch, and dinner, seven days a week. NoMI Kitchen is located in Park Hyatt Chicago, 800 North Michigan Avenue, Chicago, IL 60611. For more information or reservations, please call 312.335.1234 or visit www.nomirestaurant.com.
NoMI Kitchem
800 N. Michigan Ave. Chicago, IL 60611