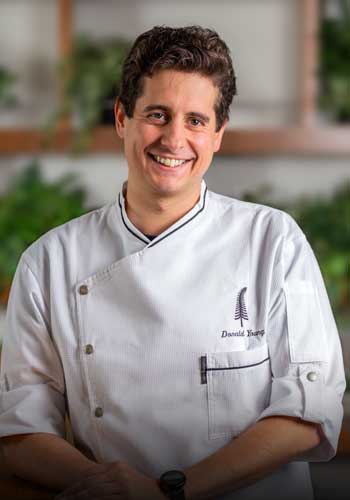 Donald Young

At WoodWind, located just steps fromChicago's Magnificent Mile, executive chef Donald Young looks to bring something different to the neighborhood unlike the casual establishments and steakhouses nearby. Believing hospitality and service to be just as pivotal as the food, he creates bold and assertive flavors, often adding a playful or interactive tableside component to his dishes. He also aims to have little to zero food waste, from turning vegetable peels into juice for vinegar to drying the pulp into a powder for garnishing. "Part of my creativity comes from figuring out how to make full use of every part of whatever ingredient I am using, especially if there is a way to enhance the star of the dish through levels of complexion from fermentation and preservation techniques," Young says.
Growing up in Wauconda, IL, in the far Northwestern suburbs of Chicago, Young describes himself as a "very plain kid" who put ketchup on everything. With a dad in the restaurant industry and a mom who prepared home-cooked meals, he grew up with an avid interest in cooking. Young started professionally staging at the age of 17through a connection his father had with Chef Roland Liccioni of Le Francais. He then took a job at a Culver's to make money while working for free at any French restaurant that would take him—including a weekly stage at Le Titi de Paris.
While attending Kendall College in 2008, Young interviewed the first chef he worked with, Chef Liccioni—who at the time worked atOld Town Brasserie in Chicago—as part of a class assignment. "That interview ended up being a life-changing moment for me," Young recalls. "It eventually turned into a stage and then a full-time job. I worked for him as much as I could." When Liccioni took the executive chef spot at Miramar Bistro in Highwood, IL, Young followed him and eventually went on a six-month internship to the southeast of France at Michelin-starred Bistrot de Saveur with Chef Simon Scott. There, he honed his pastry skills and learned about the importance of sourcing fresh, seasonal ingredients from local farms.
Upon returning to Chicago, Young put in a year at Henri with Chef Dirk Flannigan and later found himself back with Liccioni, then at Les Nomades. He worked pastries and then switched to the savory side of the line, ultimately becoming chef de cuisine, a role he held for five years.
While at Les Nomades, Young befriended Sam Plotnick, a young cook developing plans to open what would become Temporis. Young helped his friend test out the concept with pop-up dinners and eventually left Les Nomades to help open Temporis, which launched in 2017. He helped guide the restaurant to acclaim, winning praise from Chicago Tribune's Phil Vettel, Crain's Chicago Business "20 in Their 20s," and most notably,a coveted star in the 2019 Michelin Guide—all at the age of 28, making him one of the youngest chefs in the country to earn that recognition. Young parted ways with Temporis in 2019 to take on his new role as executive chef of WoodWind.
In his free time, the Noble Square resident can be found biking around the city, grilling or playing outdoor games including darts, pool or board games with friends. Young also continues to expand his knowledge of hydroponic gardening and sustainability, which he delved into while at Temporis.