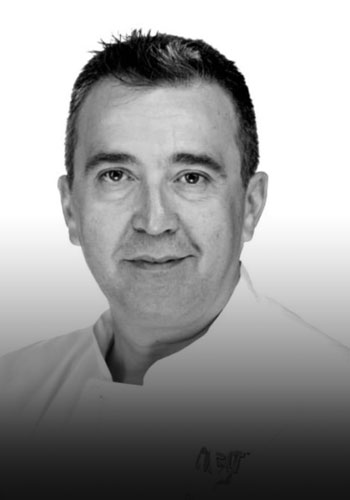 Diego Lopez Amat

Hailing from the heart of Catalonia, Barcelona native Diego Lopez Amat is thrilled to bring his culinary talents to Chicago. His grandparents were chefs themselves, running their own restaurant where a young Amat quickly learned the skills of the trade. Upon realizing that cooking was indeed his passion, he pursued studies at Barcelona's prestigious Hoffman School and stayed on following graduation as an assistant professor. After leaving the school and working through some of Barcelona's Michelin-starred restaurants like Gaig and Jean-Luc Figueres, he traveled Europe aboard a sailing vessel for two years as a cook.
Back on land, he trained under Ferran Adria at the acclaimed El Bulli where he gained a unique perspective that informed his next venture: opening his own restaurant. In 1997, Amat opened Barcelona's first gastrobar La Estrella de Plata to wide acclaim, earning the spot the award for "Best Tapas Bar" by Spain's culinary congress "Lo Mejor de la Gastronomia." La Estrella de Plata was at the forefront of a new wave of tapas bars and paved the way for a generation of innovating chefs in Spain.
While he had received much renown for his restaurant, Chef Amat soon felt the draw to travel, so he closed La Estrella de Plata in 2005 for adventures in Morocco, Turkey, and beyond. Continuing his travels, he worked at a few restaurants in Spain's Canary Islands as well as hotels in France and Spain before settling in the U.S. at the Hilton Bentley South Beach as their corporate executive head chef.
With eyes on the Windy City, Chef Amat left Miami to realize his dream of sharing his Catalan recipes at Mercat a la Planxa. He gathered a talented team of chefs and together have helped to bring an authentic touch to Mercat's menu. With his cuisine and the Barcelona-inspired ambiance of the restaurant, he hopes that guests will feel transported to Spain each time they dine at Mercat.