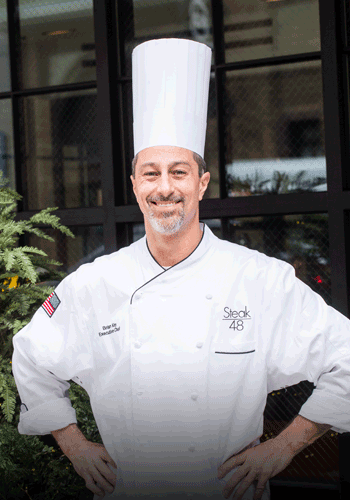 Chicagoland native Brian Key serves as executive chef of Steak 48, the third branch of Arizona's distinguished restaurant group, Prime Steak Concepts, and River North's summer 2017 upcoming addition. The concept offers guests an upscale, contemporary and energetic environment while remaining a steakhouse at its core. Focusing on quality and execution, Key is responsible for the restaurant's development of the culinary programs as well as general kitchen operations.
With a life-long passion for cooking, Key has spent most of his career working at prestigious restaurants across the Chicago area. In 1990 he accepted his first sous chef position with Levy Restaurants at Arlington Park Racecourse. Five years later, Key graduated from Kendall College Culinary Arts School and began working as sous chef at California Café in Schaumburg, Illinois. He later moved on to become executive chef at Weber Grill Restaurant as well as renowned Gibsons Restaurant Group in Chicago, where he learned the art of classic American barbeque and worked closely with breeders, packers, and processors, to deliver an unmatched level of quality. In June 2016, Key was named Operations Director of Whitney Foods.
Key continues to celebrate fresh, simple, quality-driven dishes. As Steak 48's executive chef, he embraces the restaurant's mission to offer an uplifting twist on the classic steakhouse menu, featuring the best in prime steaks, wagyu beef and seafood, as well as non-traditional chef-inspired appetizers and side dishes that result in an unforgettable experience.