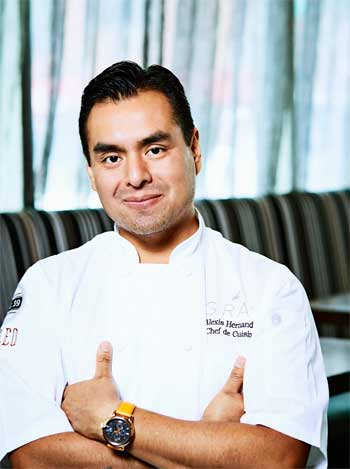 Growing up in Peru, Alexis Hernandez discovered his passion for cooking at an early age. Guided by the hand of his mother, Alexis would frequent the open-air markets of Lima, where he learned to check the quality of fresh produce and meats through smell, touch and taste. Eager to learn beyond his mother's teachings, Alexis began his formal training at Le Cordon Bleu, Peru as the youngest student in the institution's founding culinary class.
At age 19, he graduated with a degree in Culinary Arts and landed at Tragaluz, located in the premier neighborhood Asia Boulevard, south of Lima. Working alongside Chef Coque Ossio (La Bonbonnière) Alexis ignited his passion for Mediterranean cuisine experimenting with aromatics like rosemary, garlic, sage and thyme, paired with roasted red tomatoes and lamb shanks. All the flavors and scents of Tragaluz have forever left an imprint in his mind.
In 2006, Alexis transitioned to his life-changing role as executive sous chef at El Ancla y Las Brasas in Lima, where his culinary skills caught the eye of Felipe Ortiz de Zevallos, Ambassador of Peru. Alexis' cuisine made an strong impression on the Ambassador, and soon after accepted the role of private chef for the Embassy of Peru. Throughout his two years at the embassy, Alexis served countless diplomats and dignitaries, and oversaw the featured menu of "Noche Peruana en el Capitolio," a feast promoting Peruvian cuisine among leading authorities at the headquarters of the U.S. legislature, in Washington D.C. During this time Alexis was selected as one of the eight "Best Chefs of Peru," leading cooking demonstrations and gala dinners at the 2007 Epcot International Food & Wine Festival in Disney World.
Always hungry for new experiences, Washington D.C. proved to be filled with culinary adventures for Alexis. In 2010, he joined the team of Michael Romeo Group, working as sous chef at Dirty Martini in D.C., where he was quickly promoted to executive chef due to his merits and creativity in the kitchen. After Dirty Martini, he assisted in the opening of Le Diplomate (OpenTable's 100 Best Brunch Restaurants in America, 2016), one of Washington D.C.'s top rated restaurants and credited by Washington Post for revitalizing the D.C. restaurant scene. He then further continued his culinary experience as sous chef at Zengo until was able to reginite his passion for Mediterranean cuisine as executive chef of Romeo & Juliet, atop Capital Hill.
In 2016, Alexis returns to his Peruvian roots in one of the nation's premier culinary destinations as chef de cuisine at the Latin American-inspired rooftop restaurant and bar, Boleo in Chicago. He aims to provide the guests of Boleo with authentic, yet approachably elevated Peruvian and Argentinean street fare.
When the apron is off, Alexis enjoys sharing a glass of wine with friends, walking his dog, "Chef", playing guitar, songwriting, flamenco dancing and playing pool.