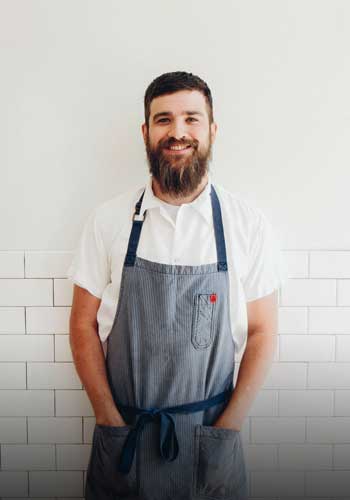 AJ Walker's unfettered approach to food and calm demeanor make him perfectly suited for his role as Chef de Cuisine at Publican Anker. The Ohio native always had the cooking bug, but it wasn't until he was 22 that he began culinary school and cooking professionally. After an introduction to cooking at Latitude 39 in Athens, Ohio, Walker moved to Chicago to further hone his craft.
In 2009, Walker joined the team at BIN 36, where he spent two years learning the basics, eventually being promoted to sous chef. When a position at The Publican opened in 2011, Walker jumped at the opportunity. There, under then Chef de Cuisine Brian Huston, Walker further refined his palate, passion for seasonal ingredients and learned how to develop a strong kitchen culture. Through hard work, dedication and talent he rose through the ranks becoming one of The Publican's Sous Chefs in 2014, under then-Chef de Cuisine Cosmo Goss.
In 2015, Walker was selected to be Publican Quality Meats' chef de cuisine, where he worked hand in hand with The Publican. Then, one year later, Walker joined the opening team at Publican Anker as the new restaurant's Chef de Cuisine, where his highly seasonal menu features simple preparations, using house-made and locally sourced products.