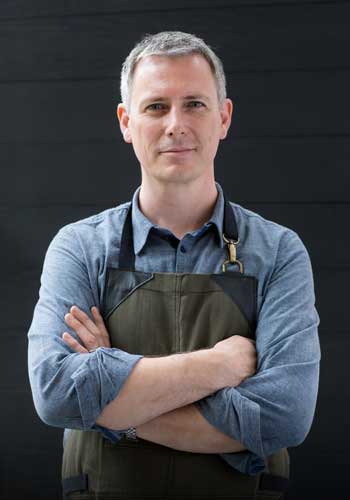 Andrew Zimmerman is the Executive Chef at nationally acclaimed Sepia and newly opened Proxi. Since taking the culinary lead at Sepia in 2009, Chef Zimmerman has garnered international acclaim for his inventive American cuisine. His creative direction in the kitchen has earned the Chicago restaurant a Michelin star since 2011, as well as a AAA Four-Star rating for 2015 and 2016. Zimmerman was invited to cook at the James Beard House in New York City in 2010. He's received a James Beard Foundation Award nomination for "Best Chef: Great Lakes" in 2012, 2013, 2014, 2015, and 2016 and StarChefs.com chose him as a 2011 Rising Star Chef. For the 2011-2013 Jean Banchet Awards, he was nominated as "Chef of the Year," and Sepia won as "Restaurant of the Year" in 2012.
In his 20s, while following a life-long dream to become a musician, Zimmerman supported himself by working in restaurants in New York City. When he realized he enjoyed being in the kitchen more than the clubs, Zimmerman began to pursue a career as a professional cook. He worked as sous chef for three years under Renato Sommella, whom he cites as one of his strongest culinary mentors. He then enrolled in the prestigious French Culinary Institute in New York City, graduating first in his class in 2000. Zimmerman made the move to Chicago in 2003 to assume a chef position at the Park Hyatt Chicago. In 2004, he met restaurateur Terry Alexander, who was impressed with his capabilities and hired him as executive chef at MOD and opening chef for del Toro. Zimmerman returned to the Park Hyatt as chef de cuisine at its restaurant, NoMI, working with Chef Christophe David. In 2008, he was introduced to Sepia Owner Emmanuel Nony, and the following year, Nony offered Zimmerman the executive chef position at Sepia. Nony and Zimmerman are growing their culinary vision with the addition of Proxi to their city block. Proxi gives Zimmerman a chance to experiment with new techniques and flavor profiles as the contemporary American restaurant pulls inspiration from global street food.
Zimmerman continues to participate in a number of high-profile culinary events, including the national Cochon 555 tour; Cochon Heritage Fire in Napa, CA; Food & Wine's Entertaining Showcase; Charleston Wine + Food Festival in Charleston, SC; Park Hyatt Tokyo's Guest Chef Series; Food Network in Concert; and James Beard's Celebrity Chef Tour. Zimmerman has also appeared on several national television shows including Food Network's "Iron Chef America" where he successfully defeated Iron Chef Marc Forgione in Battle Cream Cheese; NBC's The TODAY Show; and CBS This Morning's "THE Dish."
Zimmerman and his wife, Lindsey, live in Chicago's Bucktown neighborhood with their daughter and son. When not working, he can be found traveling with his family—and finding culinary inspiration all along the way.